ŠKODA North Island School Track Championships
Road & Track
11 July 2022 - 12 July 2022
Cambridge
The 2022 SKODA North Island School Track Championships will be held at the Grassroots Trust Velodrome in Cambridge, from 11 - 12 July, run by Cycling New Zealand.
Accreditation
All riders are required to be accredited to the Grassroots Trust Velodrome confirm participation. Contact colin.dixon@velodrome.nz to book.

Bike Hire
There are a limited number of bikes available to hire from the Grassroots Trust Velodrome. Bike hire is for the entirety of the event, bikes are not shared. Please contact colin.dixon@velodrome.nz to hire your bike.
Accommodation
For more information on group accommodation options at St Peters Cambridge see below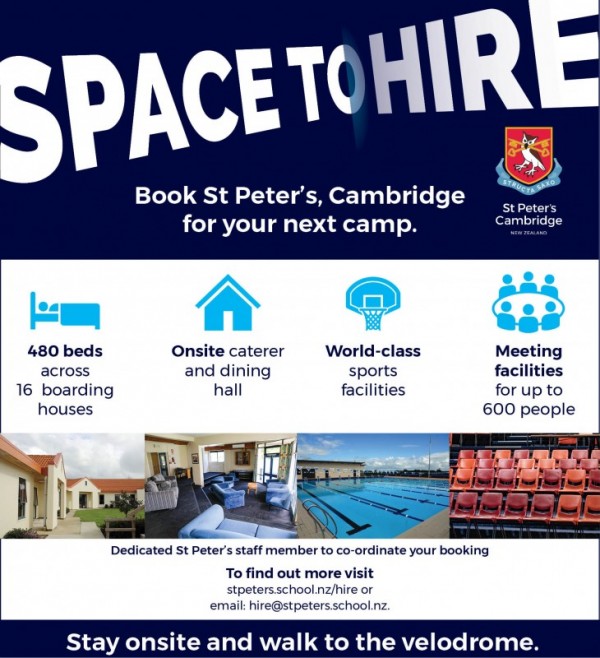 Events/Categories
Age as at 31 December 2022.
Individual Races (Includes Scratch Race, Point a lap or Tempo Points, 515m Scratch or Keirin)
U20, U17, U16, U15, U14, U13 boys and girls
Teams Race (Includes Team Pursuit and Team Sprint)
Senior (U20), Junior (U16) and Year 7 & 8
Team Sprint - to bring rules in line with the Cycling New Zealand R&T Regulations, Yr 7/8 and Junior/U16 boys and girls teams will race over 500m (2 riders), and Senior/U20 boys and girls teams will race over 750m (3 riders)

At a minimum competitors must be enrolled in Year 7.
Individual events will be run in an 'Omnium style' Riders will be awarded Omnium points for placings in each event. Riders must start all three events to be eligible for titles. Podium placings from individual events will receive certificates. Medals will be awarded to the top 3 overall in each age group.
Refund Policy
Refunds requested after the entry closing date will only be processed on the presentation of a medical certificate. All refunds will incur a $20 administration fee.

Rules
This event is run in accordance with Cycling New Zealand Schools Rules.

Health and Safety
Everyone has a responsibly towards Health and Safety at an event.
The safety of the riders, officials, volunteer and spectators are included in the event planning. If you have any questions or concerns regarding Health and Safety please report to the Event Manager.

Supporters
School Sport New Zealand
2022 entries are not open yet. Entries must be completed through your school only through Enter Now. No individual entries will be accepted. Schools must be affiliated with Cycling New Zealand Schools for the 2022 year and list their riders before they can enter.
Entry Fees:
TBC

Once you have completed your entries through Enter Now, you must download an invoice from the bottom of the entry form. Your Invoice number must be used as the reference when paying your account.