Skoda North Island School Road Championships
Road & Track
10 July 2021 - 11 July 2021
Cambridge
Event Organiser: Red Events
Contact: errol@onyabike.co.nz
Event Details
The 2021 Skoda North Island School Road Championships will be held at Lake Karapiro, Cambridge on 10 - 11 July, hosted by Red Events.
Saturday
- Team Time Trial
- Road Race
Sunday
- Criterium
Categories
Age as at 31 December 2021.
Individual Races:
U20, U17, U16, U15, U14, U13 boys and girls
Teams Race:
Senior (U20), Junior (U16) and Year 7 & 8
Refund Policy
Refunds requested after the entry closing date will only be processed on the presentation of a medical certificate. All refunds will incur a $20 administration fee.

Rules
This event is run in accordance with Cycling New Zealand Schools Racing Rules.
Health and Safety
Everyone has a responsibly towards Health and Safety at an event.
The safety of the riders, officials, volunteer and spectators are included in the event planning. This includes (but not limited to) road restrictions, traffic management and event advisories to the local businesses and residents.
The event takes place a mix of urban residential and rural roads. It is your responsibility to manage your own safety during the event, to be aware of other road users at all times and to make responsible decisions. There is traffic management in place however, the roads are OPEN and there will be public and official traffic on the circuit during your race.
If you have any questions or concerns regarding Health and Safety please report to the Chief Commissaire or to the Race Director.
Accommodation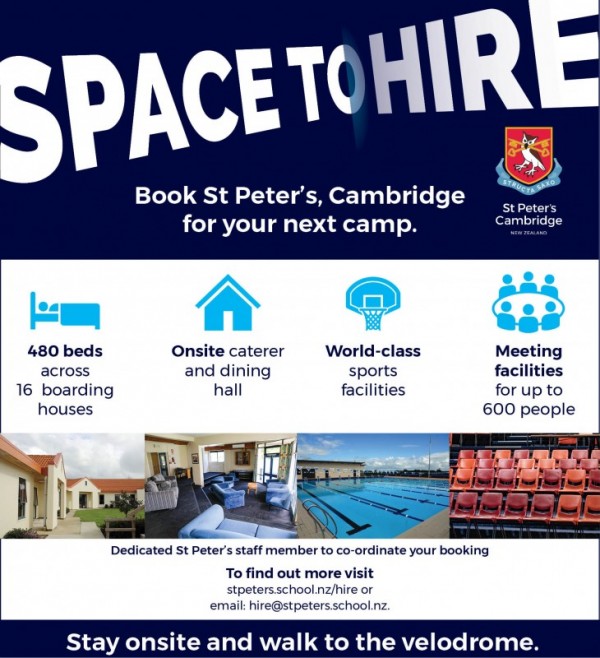 Supporters
School Sport New Zealand
Entry Details
Entries will open at the start of Term 2, during the week of May 10th. Entries must be completed through your school only through Enter Now. No individual entries will be accepted. Schools must be affiliated with Cycling New Zealand Schools before they can enter.