Škoda North Island School Road Championships
Road & Track
1 July 2023 - 2 July 2023
Cambridge
The 2023 Skoda North Island School Road Championships will be held in Cambridge on 1 - 2 July.
Saturday 1 July: Team Time Trial & Road Race
Sunday 2 July: Criterium
Event Information
Click here for the provisional Event Manual - at 22 May 2023.
Click here for Course Maps - TBC.
Click here for the Start Lists - TBC (any questions or issues, please see the race office on Sunday morning)
Rules
Racing will be conducted under the Cycling New Zealand Schools Rules. All riders should familiars themselves with the complete Rules under which racing will be conducted.
Health and Safety
Everyone has a responsibly towards Health and Safety at an event.
The safety of the riders, officials, volunteer and spectators are included in the event planning. This includes (but not limited to) road restrictions, traffic management and event advisories to the local businesses and residents.
The event takes place a mix of urban residential and rural roads. It is your responsibility to manage your own safety during the event, to be aware of other road users at all times and to make responsible decisions. There is traffic management in place however, the roads are OPEN and there will be public and official traffic on the circuit during your race.
If you have any questions or concerns regarding Health and Safety please report to the Chief Commissaire or to the Race Director.
Accommodation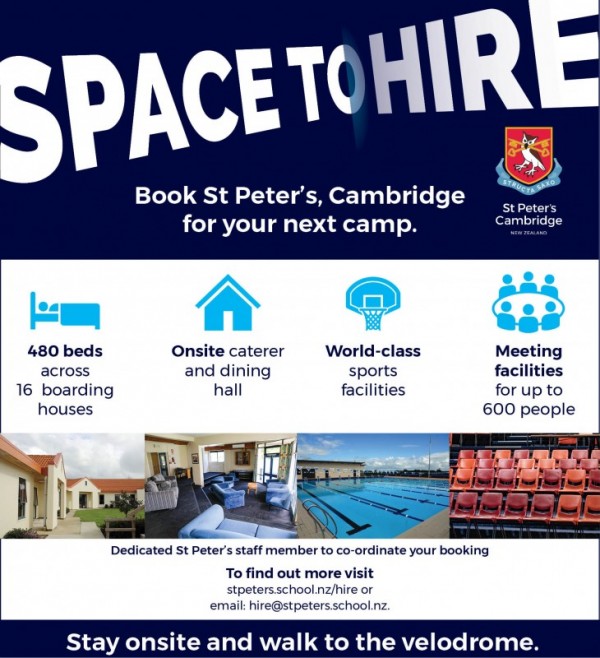 Supporters
School Sport New Zealand
Entries will open on Wednesday 26 April 2023. Entries must be completed through your school only through Enter Now. No individual entries will be accepted. Schools must be affiliated with Cycling New Zealand Schools for the 2023 year, list their riders under their affiliation and pay their 2023 affiliation invoice before they can get access to the entry system for this event.
Click here for the live entry list.
ENTRIES WILL CLOSE ON FRIDAY 2 JUNE. ENTRY FEES MUST BE PAID BY FRIDAY 23 JUNE.

Once you have completed your entries through Enter Now, you must download an invoice from the bottom of the entry form. Your Invoice number must be used as the reference when paying your account.
Entry Fees
Team Time Trial - Saturday 1 July
$105 per team
Road Race - Saturday 1 July
$65 per individual
Criterium - Sunday 2 July
$65 per individual
Entry fees include GST and the $6 Cycling New Zealand Schools Levy.
Refund Policy
Refunds requested after the entry closing date will only be processed on the presentation of a medical certificate. All refunds will incur a $25 administration fee.
Categories
Age as at 31 December 2023.
Individual Races:
U20, U17, U16, U15, U14, U13 boys and girls
Teams Race:
Senior (U20), Junior (U16) and Year 7 & 8
The size of team for the Team Time Trial is:
U20: 5 riders with time taken on the 4th rider (4 to finish)
U16 and Y7&8: 4 riders with time taken on 3rd rider (3 to finish)
2022 Results:
2021 Results:
2020 Results:
This event was unfortunately cancelled.
2019 Results:
2018 Results:
2017 Results:
2016 Results: