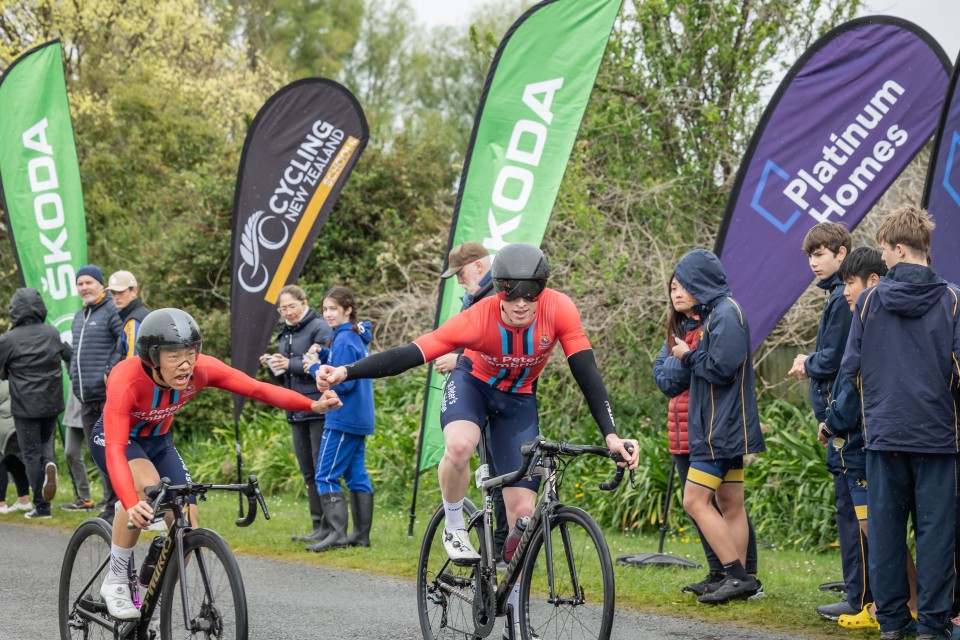 The 2022 Schools Cycling year was a blast!

SKODA New Zealand were naming partner of Cycling New Zealand Schools events once again, with all national and island champions being awarded a limited edition Skoda/Cycling New Zealand Schools winners jersey.

2022 saw a strong number of schools affiliate with Cycling New Zealand Schools with 247 completing affiliation. Over 1500 riders from Year 7 to Year 13 were entered into the 13 events on the calendar, and while not everyone got to compete in the end, these numbers were still close with previous years.

The schools cycling season was due to start in March with the SKODA South and North Island School MTB Championships, however unfortunately these events were both cancelled due to Covid-19. Thank you to our event partners, and host clubs; Rotorua MTB Club and Coronet Peak for their hard work on these events.

We then looked ahead to the July school holidays, which was jam packed with 5 schools cycling events across 3 codes. The SKODA South Island Road Championships and the SKODA North Island Road Championships kicked off the school holidays with events in Christchurch and Cambridge respectively. While entry numbers were down, the atmosphere and vibe at both events was considered the best after both of these events were cancelled in 2021. The SKODA North Island Track Championships followed shortly after in Cambridge, with numbers down on previous years.

Rounding out the July school holidays were the second ever Schools Cycling cyclocross events on the calendar; the SKODA South Island Cyclocross Championships hosted by Cycling South Canterbury in Timaru, and the SKODA North Island Cyclocross Championships hosted by Cyclo Cross Hakes Bay Club in Havelock North. 60-80 riders took part at each event which was some strong growth from the year before which was awesome to see.

The next events on the calendar were the SKODA Southern Tour and SKODA Northern Tour which could finally happen after two years of cancellations. Cycling Marlborough ran the SKODA Southern Tour Presented by Cuddon Engineering in Blenheim and did a fantastic job, with all the riders having heaps of fun on and off the bike. The SKODA Northern Tour Presented by Safetyminder was up in Auckland and had strong entry numbers with 350 individuals taking part in the tour hosted by Cycling New Zealand. These two events are the only road tours in Schools Cycling, where riders get points towards the tour jerseys and also scored National titles in the TT, Hill Climb and Criterium events.

We quickly got to the end of the calendar with the SKODA National School Road Championships kicking off the school holidays in the Manawatu at a few new locations which were really successful. Entry numbers were down but there was still 400 riders taking part and trying their best!

The following week we went south and had the combined SKODA South Island / National School Track Championships in Invercargill hosted by Cycling Southland. This event went smoothly with riders competing in a teams day and then an individual omnium day of racing.

The day after the track concluded we went even more south to Bluff! Here we had the SKODA National School MTB Championships hosted by the Southland MTB Club. This was our only Schools MTB event this year, and everyone was buzzing to be there. The four days of racing was really successful and the weather was stunning!

We would like to take this opportunity to say thank all of our riders, parents, teachers, event organisers, volunteers and sponsors for their contribution and input to Schools Cycling in 2022, we wouldn't be here doing this without you all.
Keep an eye out for our next newsletter next month where we will be announcing all the 2023 schools cycling event dates!