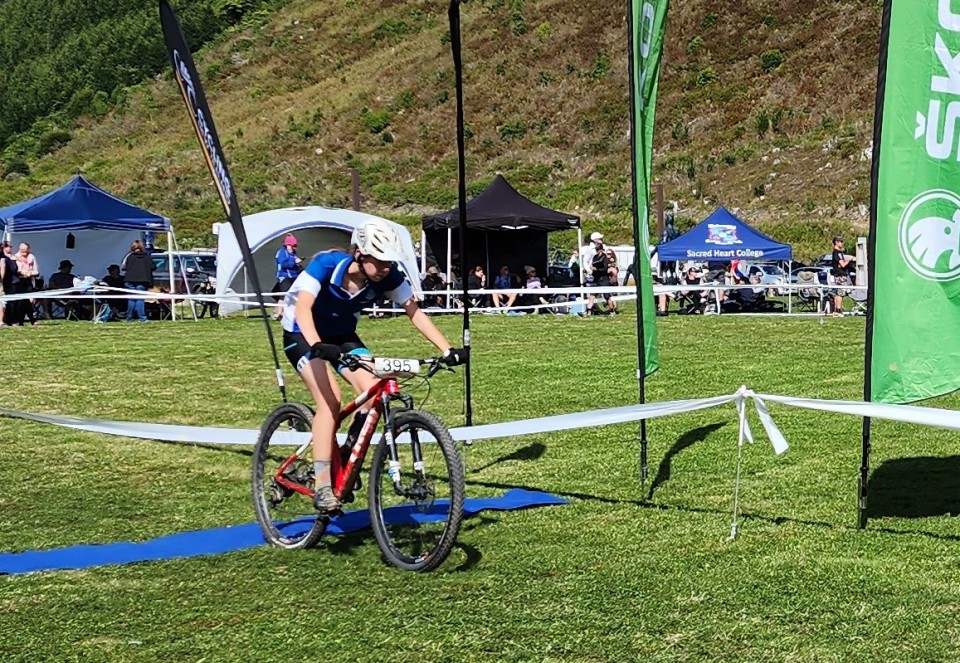 There was a massive event-entry of over 550 riders for the three-day SKODA North Island schools mountain bike championships in Rotorua.
The championships were hosted by the Rotorua MTB Club and based in the Whakarewarewa Forest. It comprised downhill competition on a version of the National DH track at Waipa with the cross country individual and teams relay at Te Putake O Tawa track on Saturday and the Enduro competition on Sunday.
The downhill competition saw Tayler Waite (Napier Boys) dominate the under-20 boys contest with great run in 3:32.39 to be 11 seconds clear of under-16 rider Jonty Williamson (Palmerston North) with Lindisfarne's Charlie Wiffen third.
Rotorua Lakes rider Bellah Birchill was super impressive in the female competition, with the under-17 rider clocking 4:31.29 to be 15 seconds ahead of exciting under-15 rider Millie Waite (havelock North HS) with Mt Maunganui's Poppy Lane third and the under-20 winner.
The enduro competition was over three stages with Mt Maunganui's Cameron Ford prevailing in the under-20 grade in 10:21 after being fastest in the first two stages. He prevailed by just six seconds from Tauranga Boys' Harry Kneebone who in turn was just half a second ahead of Jonathan Jamieson (Palmerston North Boys).
Alex Clark (St Kentigern) took out the female enduro event in 11:16, based on a superb opening stage win that gave her the winning buffer. She finished 21 seconds ahead of second placed Milla Phipps (Rotorua Lakes( with Lane third, after winning the second and third stages.
In cross-country racing Phipps showed her versatility in winning the under-20 girls in 1:06.32, in the sprint finish over Olivia Tilby-Adams (Papamoa) and Clark.
Kapiti's Mille Donald claimed the under-17 honours in 1:00.46, clearing out on the final lap to finish nine seconds clear of Victoria Barrett (Taupo Nui-a-tia) with Tilby-Adams third.
In other age groups, Kayley McMillan (Morrinsville) won the under-16 girls in the sprint finish over Dulcie Copeland (Bethlehem); Nicole Wallace (Rotorua Lakes) took out the undr-15 in 1:19.15 in the sprint finish from Fifi Weston (Wellington Girls)( and Bianca Stewart (Taupo Nui-a-tia). The under-14 race was claimed by Sophie Archie (St Kentigern) in 49:47 edging Georgia Davies (Mokoia Int) while Julia Hutchinson (Palmerston North Int) took out the under-13 race in 52:09 ahead of Cate Phipps (Mokoia).
In the boys, Joshua Cavanagh (Hillcrest) won the under-12 title in a photo-finish over Cory Hartgill (Hamilton Boys), both riders recording 1:4.43, with Thomas Winter (Tauranga) a second back in third.
Hamilton's Fletcher Adams won the under-17 honours in 1:11.51 comfortably clear of Ollie Fredericksen (Trident) and Isaac Allan (Otumoetai).
In other grades, James Climo (Hamilton Boys) won the under-16 title in 53:49 just ahead of Benjamin Archer (St Kentigern) and Leroux van der Leek (Rathkeale); Levi Gear (Orewa) won the under-15 ion 59:55 from Felix Lloyd (Whangamata); Otumoetai Intermediate's Jaxon Mair claimed the under-14 title and in the under-13 contest Matthew Wallace (Mokoia) edged Mayson Snow (Mt Maunganui) and Maxx Gurney (St Peters Cambridge) in the sprint finish.
The cross-country team competition saw Hamilton Boys (Keiron McMillion, Fletcher Adams and Cory Hartgill) claim the male honours from their junior team with Tauranga Boys College third.
The female honours went to Taupo Nui A Tia College with a strong team effort from Victoria Barrett, Amber Nicole and Anto Shepherd ahead of St Kentigern College and John Paul College junior combination.