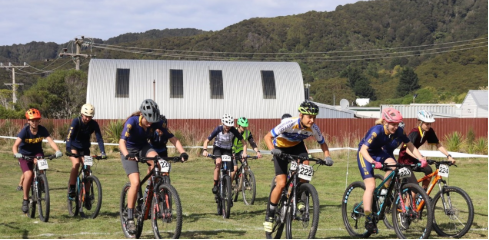 The much anticipated schools cycling calendar kicked off over the weekend with the North Island and South Island School Mountain Bike Championships.
The North Island event, organised by the PNP Cycling Club with support from the Wellington MTB Club, was held at Waiu Trail Park in Wainuiomata, while the South Island event took place at the Mount Hutt Mountain Bike Park, run by Bike Methven. Between the two events, over 650 school students competed across cross country, downhill, enduro and team relay disciplines.
Almost 300 intermediate and secondary schools affiliate to the Cycling New Zealand Schools programme and in 2018, over 3,570 of students took part in eleven events across cycling codes.
North Island
As the saying goes, you can't beat Wellington on a good day, and that was very much the case with sunny skies and light winds making for an excellent three days of mountain biking at the Waiu Trail Park. Two hundred and fifty riders represented 70 different schools from as far north as Whangarei, and south as Wellington.
Saturday saw 135 riders take to the cross country course and a further 25 teams compete in the relay event. Under 19 cross country national champion, youth Olympian and Subway National MTB Performance Hub rider Sammie Maxwell (Tauhara College) showed her class in the senior girls cross country, dominating the race to finish eight minutes ahead of second. It was a different story in the boys version with Matthew Wilson (Macleans College) and Caleb Bottcher (Palmerston North Boys High) going neck and neck all the way to the finish where Wilson prevailed in the sprint for the line, mirroring the outcome of the U19 race at the Altherm National Mountain Bike Championships earlier in the month where they fought for second and third.
Jenna Hastings (John Paul College), the under 17 downhill national champion, had a great weekend winning both individual races in her age group, as did Cambridge High School's Maui Morrison (under 15 boys) and John Paul College's Cameron Beck (under 16 boys).
School pride was on the line in the afternoon, with the team relay event providing a chance for schools to assert themselves as the top mountain biking school. Teams of three riders lapped out over 90 minutes, navigating a course that followed the lower half of the mornings cross country course. The fastest riders were able to maintain seven minute laps, with the Palmerston North Boys High senior team of Bottcher, Adam Francis and Hayden Storrier, pushing clear from second placed Macleans College and third placed Taupo Nui-a-tia College.
The enduro race was held on Sunday with 165 competitors lining up to contest age group honours. The fastest time clocked by a male was 16:21 by Hamilton Boys High School's Seff Curle, to take out the under 20 boys title, while Millie Day (Kapiti College) used her local knowledge to her advantage to take out the under 17 girls title in a slick time of 18:40.
The event was well supported by local event partners Wainuiomata Trail Project, Hutt City Council, MDJ Media and Events Ltd, Panasonic, My Bike Trail, WORD and Garage Project. A quarter of the event fee was injected back into the local community to support the maintenance and development of the trails at the Waiu Trail Park.
South Island
Over 400 riders from as far north as Blenheim, and as far south as Invercargill travelled to Mount Hutt to contest school age group titles across cross country, downhill and enduro racing. With stacked fields, including at capacity numbers for downhill and enduro events, podium places and points for top school were keenly contested.
The standout rider across all three disciplines was under 17 cross country national champion Rebecca Hufflet (Nelson College for Girls) who took victory in her favoured cross country event, as well as scooping the downhill and enduro titles. Hufflet's schoolmate Awen Lloyd also impressed, picking up gold in the under 15 girls cross country and enduro events. Other riders to pick up double wins were Mt Aspiring College's Kalani Muirhead (under 17 downhill and enduro), Beckenham Te Kura o Pūroto's Winnifred Goldsbury (under 14 cross country and enduro) and Kaikoura High School's Oli Clark (under 13 downhill and enduro). Lloyd and Clark joined Hufflet in taking out top place in their age group, based on their performances across all three disciplines.
In hot and dry conditions, five races across the weekend came down to split seconds to decide the winner. In the under 20 downhill, Todd Ballance (Nelson College) triumphed over Elliot Wareing (Christchurch Boys High School) by 0.47 of a second, while Jess Blewitt (Wakatipu) crossed the finish in a time 0.64 seconds faster than Fiona Murray (Mt Aspiring College). On a tough cross country course, the under 14, under 15 and under 17 boys races were all decided by sprint finishes, with Finn McKenzie (Bohally Intermediate), Nick Rush (Rolleston College) and Jacob Turner (Rangiora High) all sneaking across the line in first place by less than 0.1 of a second.
Mount Hutt College riders Patrick Duff (under 15 boys) and Reilly Duff (under 17 boys) made the most of their local knowledge to claim gold in the downhill event, as did Caitlin Titheridge (under 20) who claimed the girls cross country title.
"It was an awesome weekend, well run event and so nice to be riding on home trails," said Titheridge after her win.
A healthy contingent from Nelson College helped them to take out the award for top school, followed by Marlborough Boys College and Wakatipu High School.
The event was well supported by local event partners Mt Hutt Ski Area, Methven Travel, Big Al's, Phillip Waring ltd, Southern Alps Honey, Fenwick's, Shimano, Ryders Eyewear, Madison Cycle Everywear, Ray White, Supervalue Methven, Stans and Good Oil.
Full results from both events are available to view at www.schoolscycling.nz.
CAPTION: Tauhara College's Sammie Maxwell (rider 222) makes a strong start in the under 20 girls cross country race at the North Island Schools Mountain Bike Championships.
For further information contact:
Charlotte Pearson
Cycling New Zealand Events Manager
charlotte.pearson@cyclingnewzealand.nz
021 292 0563