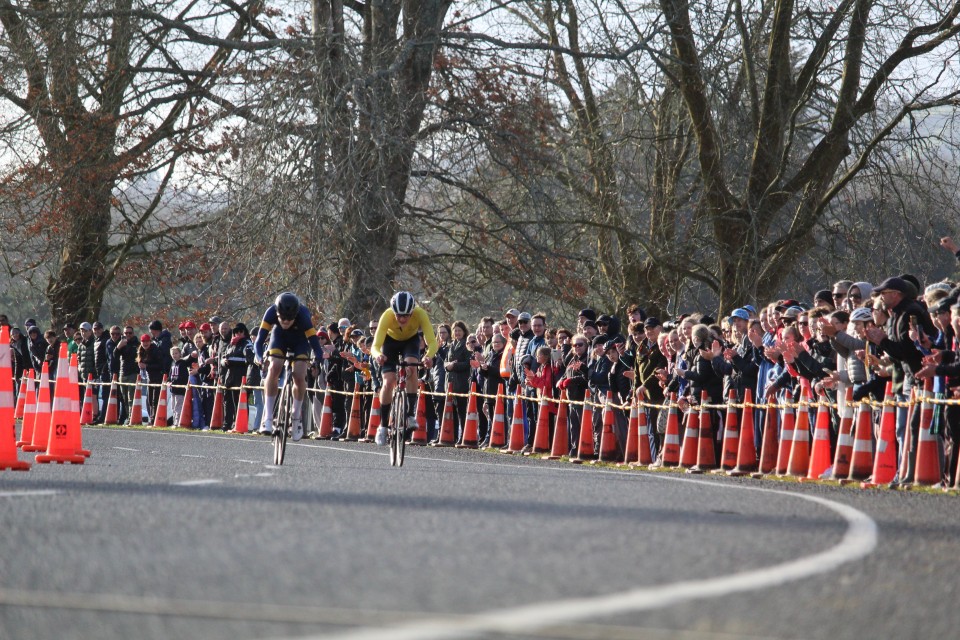 Over 900 schools cyclists converged in Christchurch and Cambridge this week for the SKODA South and North Island School Road Championships, followed by the SKODA National School Track Championships.
The SKODA South Island School Road Championships were staged at Ruapuna Motor-sport Park over two days, with an Individual Time Trial and Team Time Trial followed by Road Races for all categories, U13 – U20. 180 riders from 50 schools took part in the event, held on fresh but sunny Canterbury days.
Rhylee Akeroyd, from James Hargest College in Invercargill was the star of the show in a strong U20 Girls field, winning both the Individual Time Trial and Road Race ahead of Christchurch locals Amye Kellow, Samantha Walker and Maddi Lowry.
Jonathan Fish (home-schooled) took out both U20 Boys line honours, however South Island titles went to Christchurch Boys High's Michiel Van Heyningen (Individual Time Trial) and Jonty Harris (Road Race) due to eligibility regulations.
Christchurch Boys High School also featured strongly in the Team Time Trial, taking out the Senior and Junior boys titles, with Christchurch Girls High School winning the senior girls and Rangi Ruru Girls winning the junior girls. Medbury Prep School won the Year 7 & 8 boys.
Up in Cambridge, the North Island riders took part in the two day event consisting of a Team Time Trial, Road Race and Criterium.
Tom Bean, Marcus Findlow (Auckland Grammar) along with Matt McClune (Takapuna Grammar) managed to break away from the rest of the U20 Boys Road Race field and take the podium spots. Lewis Bower, from Westlake Boys led the chase group and finished a minute down in 4th. The U19 National Time Trial Champion had something to prove the next day, taking out the U20 Boys Criterium in strong fashion.
It was an exciting sprint finish for the U20 Girls, with Holly Bliss from Avondale College taking the win from Alice Hopkinson and Jorja Clouth from Baradene College. Jorja showed her strength the next day, taking out the Criterium title ahead of Queenie McElwee (Epsom Girls) and Hopkinson.
Auckland Grammar took out both the Senior and Junior Team Time Trial titles, while Epsom Girls Grammar won the Senior girls and Palmerston North Girls won the Junior girls. The Year 7 & 8 Team Time Trial was staged on a shorter course, and was won by Baradene College (Girls) and Palmerston North Normal Intermediate (Boys).
It was record numbers for the SKODA National School Track Championships, incorporating the North Island Championships, with over 200 riders from 49 schools taking part. This event was run Omnium-style, including a scratch race, keirin and tempo points race. Points were earned from each race and went towards the overall total.
Standout performances came from Seana Gray from Cambridge High School and Caitlyn Kelly from Verdon College who won all three events in the U17 and U16 Girls categories. Amelia Sykes from Avonside Girls showed her strength amongst a tough U20 Girls field winning the Scratch race and the Tempo Points, just getting pipped by sprint specialist Lily Cawood from St Peters School in the Keirin. Jorja Clouth continued her strong performances from the road, coming in 2nd on the U20 girls podium and taking out the North Island title.
The U20 Boys event was won in similar fashion with Jack Carswell (Cambridge High School) taking the Scratch and Tempo Points honours, and Kaio Lart (Nelson College) showing his spring power winning the Keirin. Jaxson Whyte (Roncalli College) and Oliver Watson-Palmer (St Peters School) rounded out the U20 Boys podium.
It was a battle between St Peters School and Cambridge High School in the Team Pursuit, with St Peters taking the honours across Year 7&8 and Junior races, and Cambridge High School winning the Senior races.
Cambridge High also proved how strong their senior riders are by winning the senior boys and girls and the junior girls Team Sprint. St Peters took out the junior boys and Year 7&8 boys categories, with Kaitaia Intermediate winning the Year 7&8 girls.
After a year of very little schools racing, riders were ecstatic to be back at it at these events. Schools cyclists will now be looking forward to upcoming inaugural SKODA North and South Island Cyclo-cross events and the remainder of the road calendar approaching with the SKODA Southern and Northern Tour in winter tournament week and the SKODA National School Road Championships in the next school holidays.
For full results, go to www.schoolscycling.nz