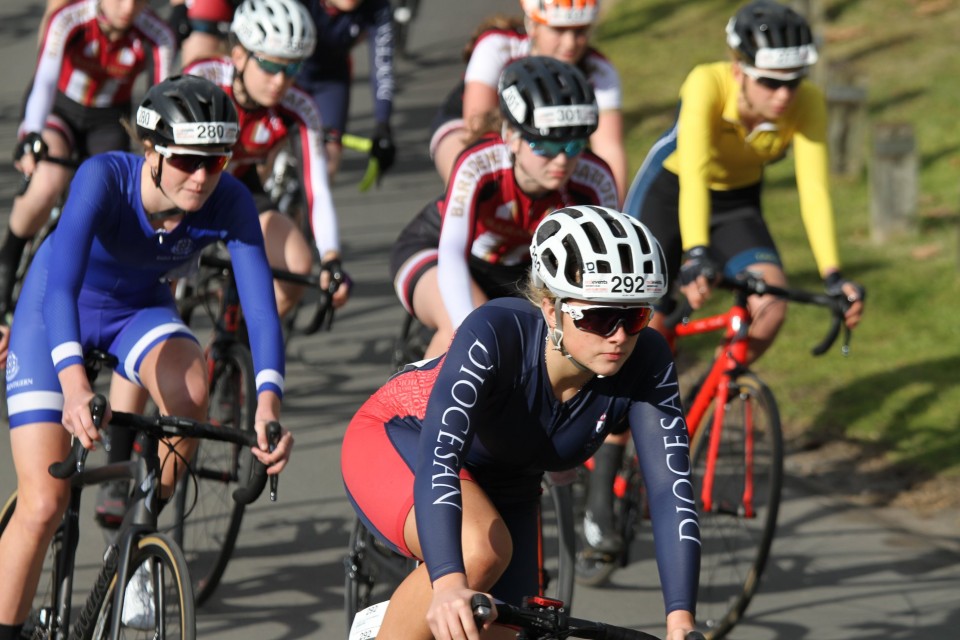 The schools road and track cycling year ramps up this weekend with more than 1000 students competing in the North Island and South Island School Road Championships and the North Island School Track Championships.
The South Island Road event, organised by Cycling Canterbury Schools, takes place at the Mike Pero Motorsport Park in Christchurch on Saturday and Sunday, with an individual time trial, team time trial and road race across two days of racing.
The North Island Road event, organised by Red Events, is at Lake Karapiro Cambridge on Saturday and Sunday and features a team time trial, road race and criterium. Following on from that, the North Island Track Championships, presented by the Avanti Shop and organised by Cycling New Zealand, will be at Cambridge's Avantidrome venue on Sunday and Monday.
Almost 300 intermediate and secondary schools affiliate to the Cycling New Zealand Schools programme and in 2018, over 3,570 students took part in 11 events across cycling codes.
South Island Road
Riders will travel from as far north as Blenheim, and as far south as Invercargill to the Canterbury region to compete in the South Island School Road Championships. Christchurch Boys High School has 34 riders competing, the largest contingent from any one school, with Rangi Ruru Girls School the next largest with 17 riders. In total, 51 schools will take part in the two-day event.
Christchurch Boys and James Hargest College will be looking for gold in the boys team trial events after a strong showing at last year's National School Road Championships, as will Rangi Ruru and Villa Maria College. Individually, Guy Yarrell (Christchurch Boys) will be looking to improve on his second place finishes in the individual time trial and road race last year, while under-16 road race national champion and Upper South Hub rider Ryan Macleod (Papanui) will be hoping to repeat his efforts from 2018. In the under-16 boys grade, Roncalli College's Jaxson Whyte will be hoping to scoop both individual titles, as he did last year. Emily Paterson (James Hargest), Erin Downie (Burnside), Jenna Borthwick (St Margarets) and under-16 national road race champion Charlotte Spurway (Rangi Ruru), who are all part of the Cycling New Zealand Upper Performance Hub programme, will be ones to watch in the girls grades.
North Island Road
Auckland's Baradene College will be well represented at the North Island Road event with 47 riders set to compete, the largest contingent from any North Island school. Manawatu schools have also entered large numbers, with 40 riders from Palmerston North Boys High School and 21 from Palmerston North Intermediate Normal School.
Over 600 riders will represent 120 different schools over the weekend, from as far north as Whangarei, and as south as Wellington.
There are plenty of returning champions from the 2018 event, including Barfoot & Thompson Auckland Performance Hub riders Prudence Fowler (Auckland Diocesan), Sophie de Vries (Saint Kentigern), Lucy Buckeridge (Takapuna Grammar), Ewart Bower (Westlake Boys) and Ella Wyllie (Epsom Girls) who has since become the Oceania under-19 road race champion.
Other riders to look out for will be locals Maddi Douglas (Cambridge High), the under-17 national road race and points race champion, and three riders who claimed the criterium and road race double at the event in 2018: Mackenzie Barnett (Cambridge High), Jack Whittall (Cambridge High) and Hamish Banks (St Peters Cambridge). Saint Kentigern's Ruby Spring will also be looking to repeat her North Island and National success, having claimed both individual titles on offer at each event.
North Island Track
A smaller but healthy group of riders will tackle the boards of the velodrome at the North Island School Track Championships, with the sport's popularity soaring, especially amongst Waikato-based riders accessing the Avantidrome youth programmes. Of the 165 riders entered, over two-thirds are Auckland or Waikato based, with 43 schools represented from as far north as Kaitaia and south as Wellington.
Local schools St Peters Cambridge and Cambridge High School will again be looking for the 'Top School' awards, fielding teams of over 20 riders, including last year's under-17 girls winner Mya Anderson (Cambridge). Anderson, part of the Grassroots Trust Waikato Bay of Plenty Performance Hub, is joined in the competition by fourteen other Hub riders, and New Zealand teammates Max Williams (St Johns Hastings), Reuben Webster (St Peters), Hamish Coltman (St Peters), Prudence Fowler (Auckland Diocesan) and Ella Wyllie (Epsom Girls) who are Invercargill bound in October for the Oceania Track Championships.
In the younger grades, names to look out for will be the impressive Seana Gray (Cambridge High) who won gold in all under-15 track events at the Vantage Age Group Track National Championships in March, and Jack Overweel (Whanganui High) who scooped four medals at the same event.
CAPTION: Prudence Fowler (Diocesan) in action in last year's North Island Schools Road Championships in the Waikato.
All events are free for spectators. For more information about access and parking, please visit: https://schools.cyclingnewzealand.nz/events.
For further information contact about Cycling New Zealand Schools events:
Charlotte Pearson
Cycling New Zealand Events Manager
charlotte.pearson@cyclingnewzealand.nz
021 292 0563