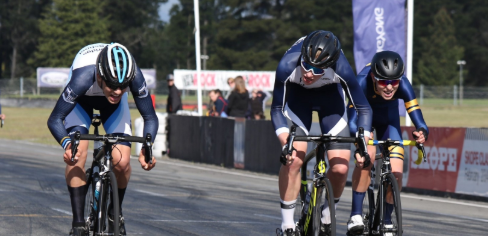 Nearly 600 riders from 84 schools will descend on Palmerston North this weekend for the 52nd edition of the National Schools Road Cycling Championships.
The event returns to its base in the Manawatu region after venturing to the South Island for the first time last year. The three day event consisting of three races begins on Saturday with the team time trial contested over a new course from Colyton School. This is followed by an individual road race also from Colyton School on Sunday before the event concludes with an individual points race held at Manfeild Circuit on Monday.
The team time trial switch from Levin to Colyton, just outside Feilding, comes off the back of feedback from schools to have one venue for two days of racing. This sees an exciting new course from Colyton School replace the Koputuroa School course which has served the event well in the past, and been well supported by the Levin community for the past five decades.
This year's edition has attracted some of the best emerging cycling talent in this country including double junior track world champion Laurence Pithie (Christchurch Boys). Pithie is joined by his rainbow jersey winning teammate Kiaan Watts who will suit up for rival Hamilton Boys in the under-20 boys grade. Other contenders will be Auckland pairing Jensen Foster (Saint Kentigern) and Ollie Grave (Auckland Grammar) who return from winning the under-17 boys road race and points race last year, as well as Xander White, Jacob Hannan and Barnaby Clegg-Shaw whose international racing experience in France this July with the New Zealand under-19 road team will have put them in good stead.
Cambridge High School's Maddi Douglas is back to defend both the individual titles she won at last year's event in Canterbury. She will face tough competition from Whangarei High's Jorja Swain who placed second in the under-20 girls road race last year, and the Baradene pair of Ireland Miln and Lara Hopkinson who rounded out the podium in the under-17 points race in 2018.
In the under-17 grade, names to look out for are Prudence Fowler (Diocesan) who already holds national school titles in the individual hill climb, individual time trial and criterium, as well as the national age group time trial and road race titles, and Jack Carswell (Cambridge High), the age group national time trial champion and under-17 world record holder in the individual pursuit.
The under-15 grade is shaping up to be an exciting showdown between the place-getters from this year's Vantage Age Group National Championships, with first, second and third from the time trial and road race set to go head-to-head again. Riders to keep eyes out for will be Hamish Banks (St Peters Cambridge), Maui Morrison (Cambridge High) and Nick Rush (Rolleston College) in the boys, and Auckland trio Ruby Spring (Saint Kentigern), Maia Barclay (Epsom Girls) and Emma Blackmore (Baradene) in the girls.
In the team events, Christchurch Boys High School will look to defend the Sir Bernard Fergusson trophy for top school in the under-20 boys, fending off competition from Palmerston North Boys High School and Auckland Grammar, while in the girls, Epsom Girls Grammar narrowly escaped past Baradene to claim the Watts Trophy last year so will be looking for a more convincing performance this time around.
Spectators are welcome throughout the event. Please note there is no parking at Colyton School – shuttles will be running from Feilding High School over the weekend from 7am.
Many thanks to our generous sponsors and supporters: Manawatu District Council, Palmerston North City Council, Sport Manawatu, Ashhurst Engineering & Construction, Adamson & Holland, Trillian Trust, Pub Charity and Eastern & Central Community Trust, and School Sport New Zealand.
CAPTION: Cambridge High School's Xander White (left) charges for the line in the under-20 boys points race ahead of Palmerston North Boys High's Madi Hartley-Brown. (Photo credit: Stu Smith).