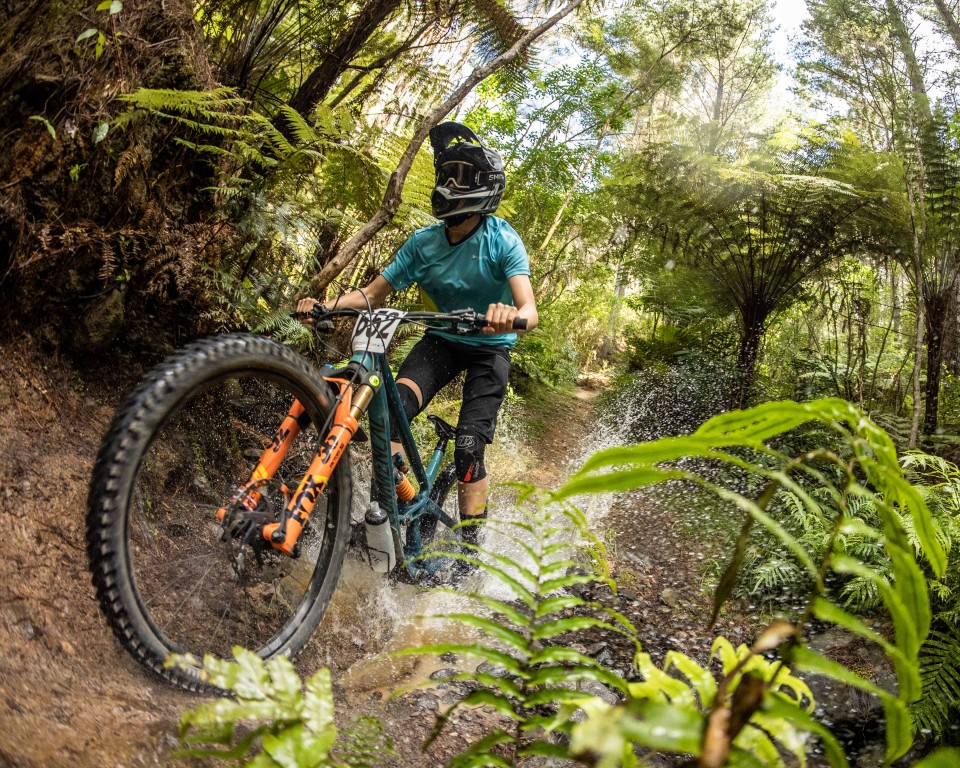 Capacity fields with more than 400 riders from Kerikeri to Wellington enjoyed ideal weather for three days of competition for the Skoda North Island School Mountain Bike Championships in Auckland.
The event comprised of cross-country on Sunday at the Hunua Ranges Regional Park, organised by Auckland Mountain Bike Club, with the enduro racing on Monday and downhill on Tuesday, both staged near Kawakawa Bay at 440 MTB Park, who organised both of the gravity events.
Many of the emerging talent who enjoyed success at the recent Torpedo7 National Championships in Christchurch were to the fore.
The cross-country competition at Hunua Ranges Regional Park offered gravelly and flat racing with some slippery corners which proved a different challenge for most.
Under-20 boys winner James Officer (Taupo-Nui-a-Tia College) rode with Hayden Sisson (Whakatane High) and Charlie Millington (Rotorua Lakes High) for the entire four laps before attacking late on the final lap to win by 11 seconds.
"My legs were pretty cooked from the start, so I just thought I'll hold on and see if I can pip them at the end and that seemed to work," said Officer.
Whakatane's Amy Humpherson used similar tactics with her late attack on the last lap enough to edge out Emma Clipstone (Westlake Girls) in the Under 20 race.
"It was a really hard race, I was right on Emma's wheel for most of the race, she got away on the last lap and I could just see her in the distance so had to really try to sprint her down," said Humpherson.
Impressive Under-17 winners both had close races with Seana Gray (Cambridge High) holding off the attack from Zoe Christie (Trident High) while fellow Cambridge High rider Maui Morrison just edged out Max Preece (St Peters, Auckland) in a sprint finish.
"The final attack I made was on the gravel section on the last lap, me and Max were flying down the single track and both almost lost it, I came out first and just held it," Morrison said.
The enduro races at nearby 440 MTB Park comprises three stages with a total of 13.5kms.
Cameron Beck (John Paul College) was hugely impressive to claim the U20 title by 23 seconds while Mt Maunganui's Cameron Ford was fourth fastest overall on his way to winning the U17 grade.
The young riders impressed in the female racing with Under-15 rider Eliana Hulsebosch from Aquinas College in Tauranga the fastest rider, some 16 seconds ahead of fellow Under-15 rider Lara Comeskey from St Marys College in Wellington.
Enduro rider Cameron Beck was fastest rider in the downhill competition at 440 MTB Park, and one of only two riders to go under three minutes for the challenging run, ahead of James MacDermid from Hamilton Boys High.
"My race run was pretty loose in some places but I just held it wide open and tried to make it stick. It was a pretty fast course. I was stoked to break three minutes," said Beck.
Most impressive in the females was recent national championship podium placegetter in mountain bike and BMX, Sacha Earnest from AGC Parnell College in Auckland.
She won the Under-16 class and was fastest overall in a class of her own in downhill.
"The race was on a bit of a different track combination that I hadn't ridden before and on a trail bike which I'm not quite used to but ended up good with a 3.35 in the end and first in my age group and out of all the girls."
Click here for all the results.